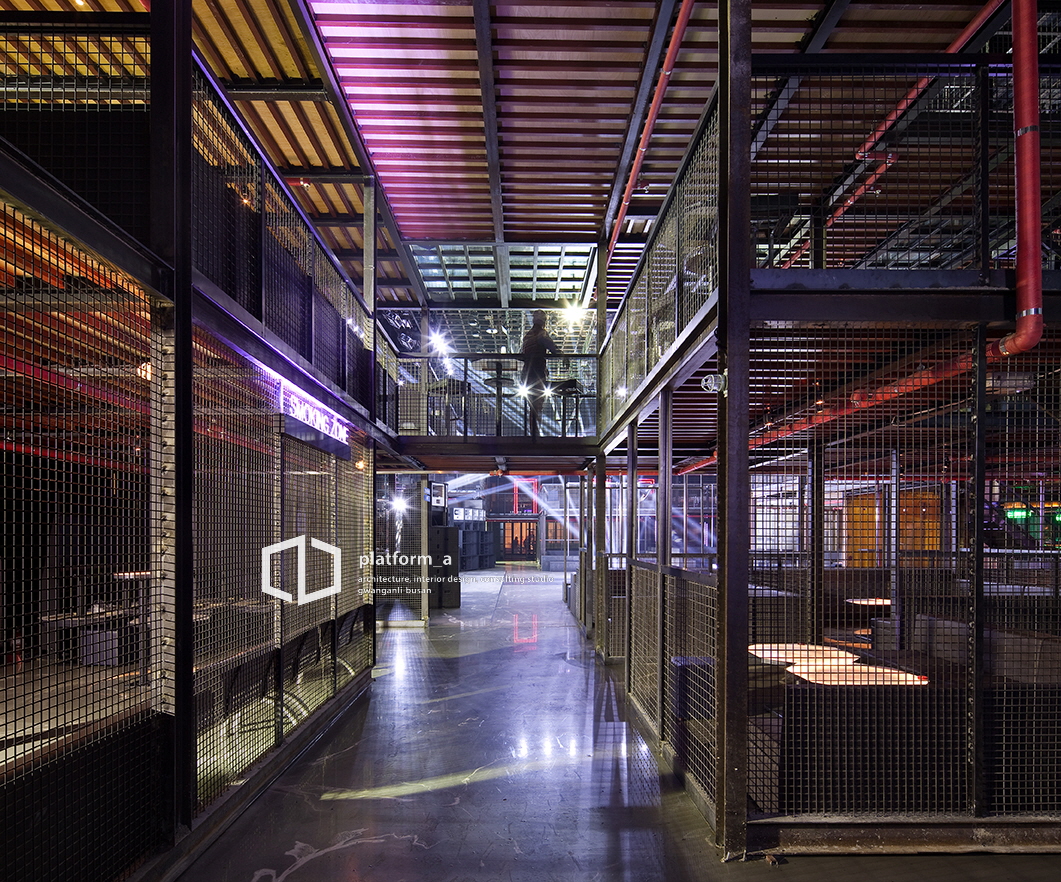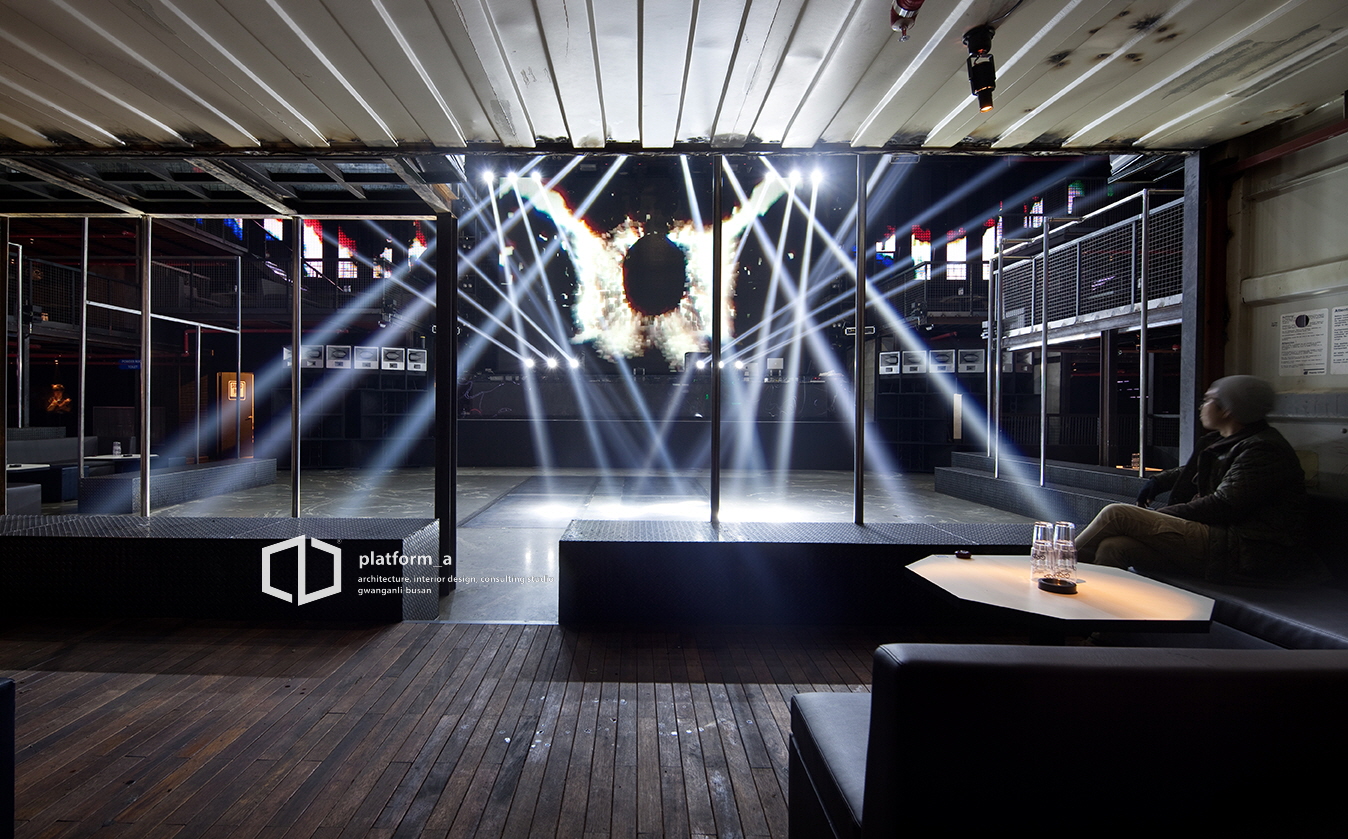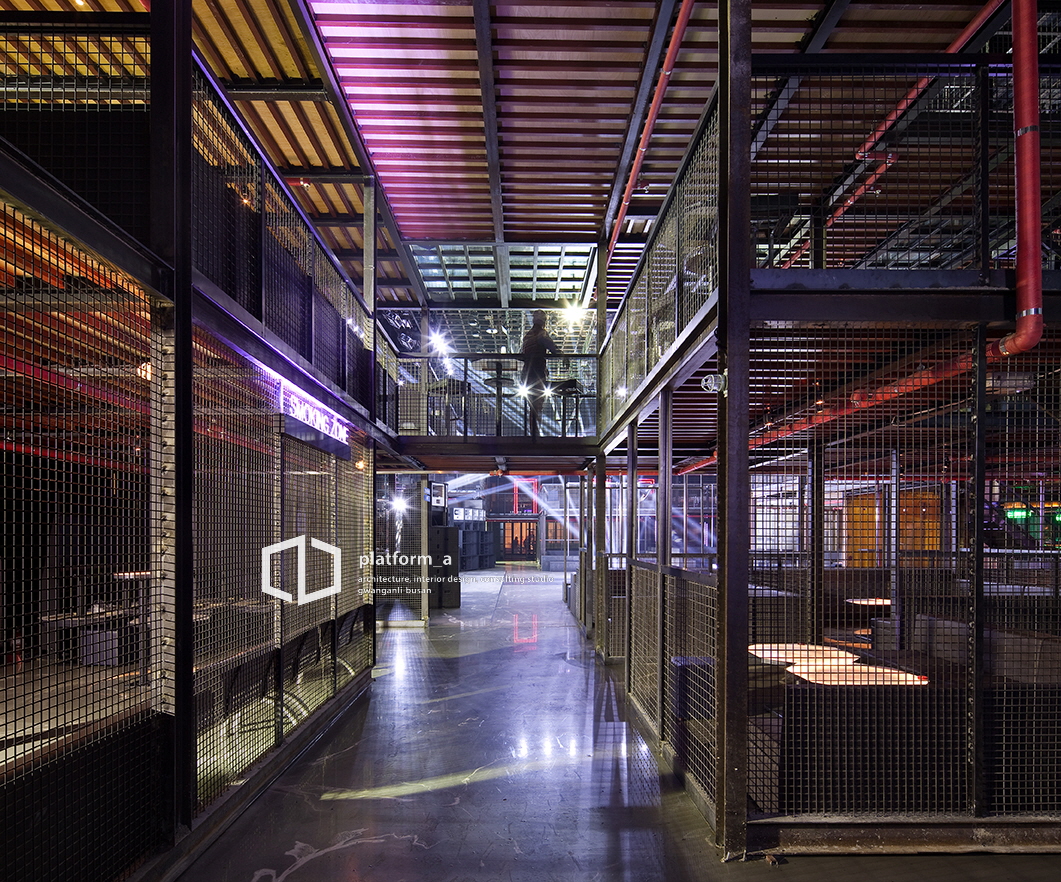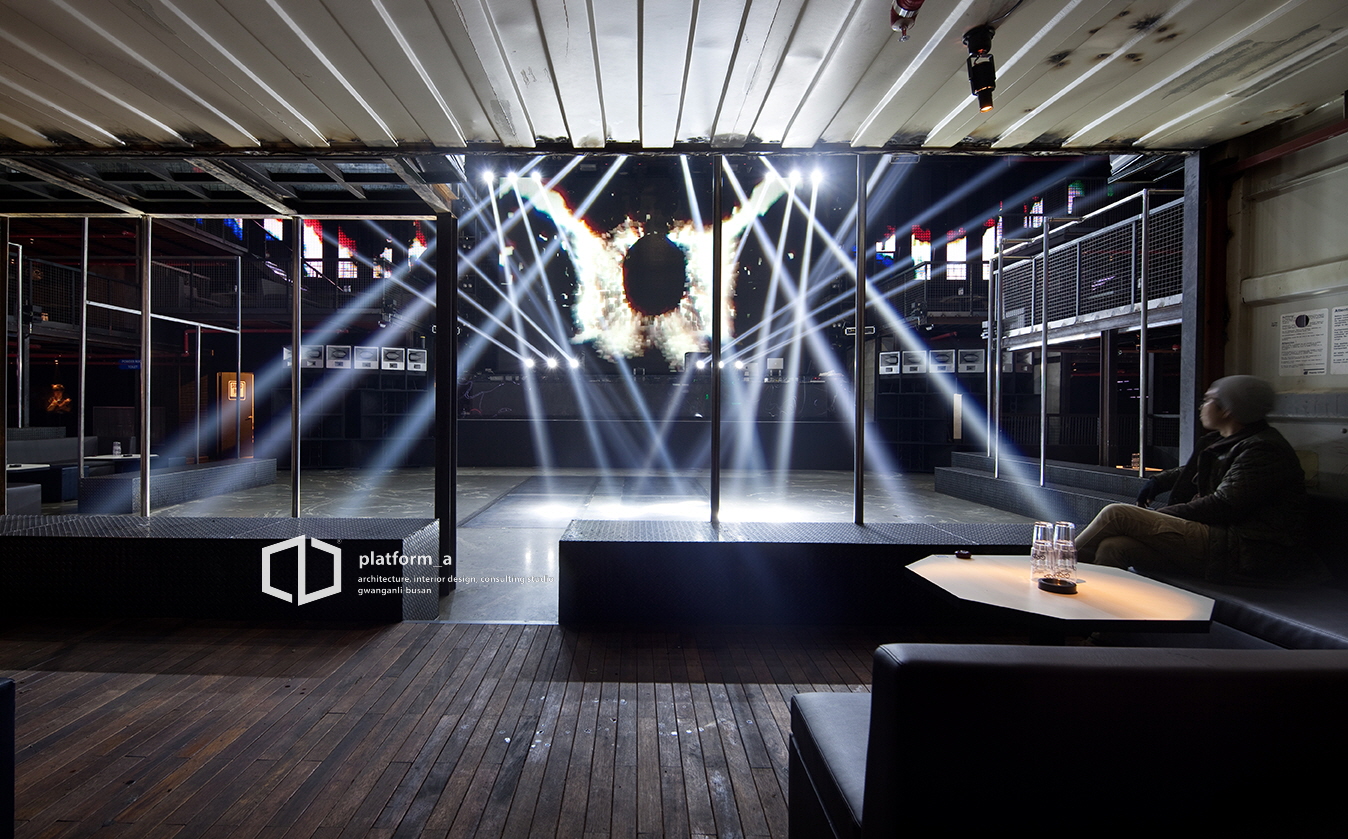 2012 completed project

design _ jincheol Han | type _ commerce | client _ club GRID | building size _5,140㎡ 
location _ 534-2, Bujeon-dong, Busanjin-gu, Busan, Korea | photo _ joonhwan Yoon
site condition
As a club is a place for people, it should appro-priately seal with the relationship between people and also unpredictable events occurred in the relationshop. The design purpose of <club GRID> is to provide revitalization through new program and design rather than renovate the existing club.
The wide space that the existing building had creates new scenes of club that has not been experienced anywhere else in Korea as the new design is combined, and it is designed to be the representative mega club space in Busan and also the axis of vitalization of surrounding region.
클럽은 사람 중심의 장소인만큼 사람과 사람 사이의 관계설정, 그리고 그 관계 속에서 발생하는 예측 불가능한 이벤트들을 적절히 담아내야 한다. <클럽 그리드>의 디자인은 기존의 클럽을 리노베이션 하는 방식이 아닌 새로운 프로그램과 디자인을 통해 활력을 불어넣는 데에 그 목적이 있다. 본래 건축물이 가지고 있던 넓은 공간은 새로운 디자인을 통해 국내 어디에서도 경험하지 못한 새로운 클럽의 장면을 만들어냄으로써 부산을 대표하는 초대형 클럽 공간이자 주변 지역 활성화의 주축이 될 수 있도록 계획했다.
The initial design idea of the club was to relocate and open the existing huge volume according to the new program, and to create unified large club space.
In order to efficiently design the existing rectangular building, the space was focused on the possibility of scalability, transformation and development, and overlapped use of grid form modularizes and incorporates the space as a design element filling the space.
This grid form has become the basis of the
'
container
'
applied to the space, the properties of container such as module system, pre-fab, structural stability, durability, portability and economic feasibility have become the specific alternatives for shortening the construction period and saving the construction cost, and also increased the density of the space as well as the design component creating grid module.
Moreover, the container that covers the independent program creates the unique atmosphere of <Club Grid> by tension and interaction in the space at the same time.
이 클럽을 위한 초기 디자인 아이디어는 공간의 거대한 볼륨을 새로운 프로그램에 맞추어 재배치하고 개방하여 하나의 통합된 대형 클럽 공간을 만들어 내는 것이었다. 직사각형의 건축물을 효율적으로 구획하기 위해 공간은 확장성, 변형, 발전을 통한 가능성에 초점이 맞춰졌으며, 중첩되어 사용된 그리드의 격자 형태는 공간을 채우는 디자인 요소로써 공간을 모듈화하고 통합시킨다. 이러한 격자의 형태는 '컨테이너'를 공간에 적용하게 된 밑바탕이 됐는데, 컨테이너가 갖는 표준화와 조립식 시스템, 구조적인 안정성, 내구성, 접근성, 경제성 등의 특성은 공사기간의 단축과 공사비용 절감의 구체적인 대안이 됐다. 또한, 이 컨테이너는 격자 모듈을 만들어 내는 디자인 요소이며, 공간의 밀도를 높여줄 뿐만 아니라, 공간에 긴장감을 주고 상호작용을 만들어 내 <클럽 그리드>만의 독특한 분위기를 자아낸다.
architectural drawings
In terms of various directions that buildings create, this project has become an opportunity to rethink and look at the existing space, and it is meaningful as the result of accumulation of time and repetitive continuity that this point provides has recreated into restructure of new space, reinterpretation, and a space that has a history which a new one cannot imitate.
건축물의 생성이 불러오는 다양한 방향성에서 이 프로젝트는 기존의 공간을 다시 생각하고 바라보는 기회를 주었으며, 이러한 점에서 이루어지는 시간의 축적과 반복적인 연속성이 새로운 공간으로 재구성되고 재해석되며, 새것은 흉내 낼 수 없는 역사가 있는 공간으로 재탄생됐다는 데 의미가 있다.
INTERIOR
2012
ⓒ COPYRIGHT platform_a ALL RIGHTS RESERVED.